Internet
Connected: to the World
Our Internet circuits range from2Mbps to 10Gbps, but with voice, video and cloud services pushing up bandwidth requirements and prices tumbling, our customers are increasingly choosing high speed 10G connections to support business needs.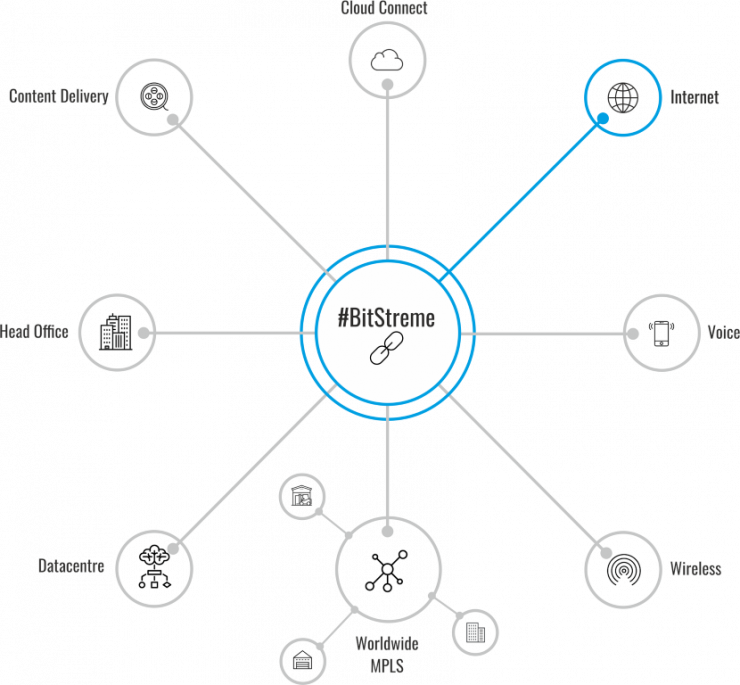 The BitStreme Internet offering is designed for the cloud age and we peer with tier one providers and key public cloud providers such as Microsoft Azure, Office 365, Amazon AWS and Google Cloud to ensure fast and reliable connections.
We do the same for Skype for Business and other select voice partners.
In addition to offering high speed Internet for the cloud age, we can provide managed security services, including:
Managed Firewall
Managed IPS
Managed Content Filtering
Managed Email Filtering
Technical Info
Internet is delivered on our MPLS platform at no extra cost. This means that you can at any time decide to use some of your bandwidth for other services, we simply add a VRF to your circuit.
We support IPv4 and IPv6 throughout our network.
WE HAVE MULTIPLE DIRECT PEERING RELATIONSHIPS.
We can offer an Internet gateway per circuit or you can have a shared Internet gateway for all circuits to save costs.
MULTIPLE SPEED OFFERINGS ARE AVAILABLE DEPENDENT ON CIRCUIT SPEEDS.
resilient OPTIONS VIA ALL CIRCUITS ARE AVAILABE.