Our solution for site connectivity ranges from 10Mbps to 10Gbps.
Our solution for data centre connectivity ranges from 1Gbps to 100Gbps
MPLS
Reliable, multi-site connections
Connect multiple sites with reliable, flexible and scaleable connections that provide an enhanced user and application experience. Suitable for the smallest branch offices to large data centres. Future proof your business with the latest, fully managed technology.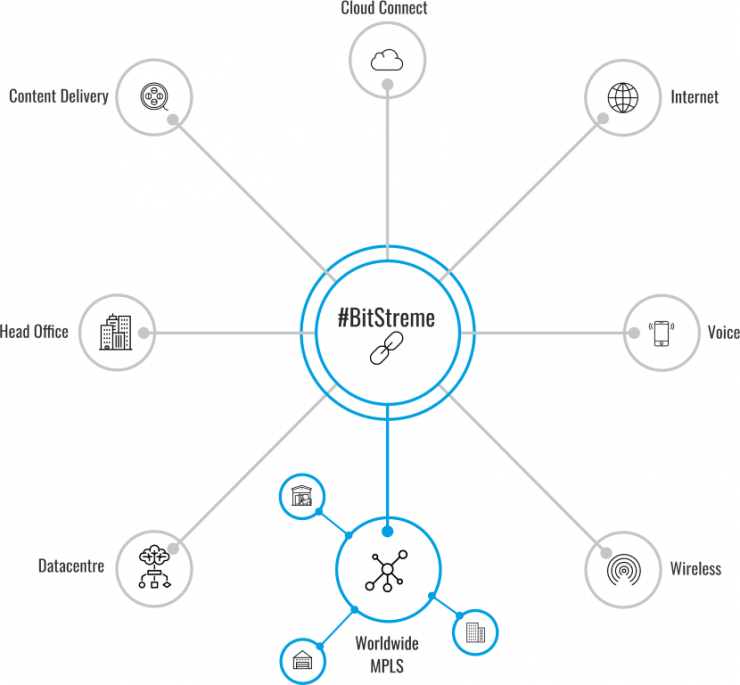 Our solution options include
One network across all sites, from small remote offices to head offices and 3rd party data centres.
Direct Integration of outside Clouds, for example Microsoft Azure or AWS.
Worldwide connectivity.
Replace legacy VPN's with a seamless managed WAN.
Centralise and prioritise critical applications, Cloud access and Voice.
Cut costs, increase reliability and improve the user experience.
Increase flexibility, moving workloads to sites as staff resources become available.
Simplify in-house technical requirements with a fully managed solution.
All hardware and circuits managed and monitored 24/7
Circuit usage information available from central portal
Technical Info
BACKUP CIRCUITS ARE ALWAYS DELIVERED THROUGH A DIFFERENT FIBRE PROVIDER THAN THE PRIMARY CIRCUIT
Our QoS supports eight traffic classes end to end. Just like your campus network! No need to rewrite QoS policies on egres to the WAN anymore.
We use BFD on all links to speed up routing protocol failure detection. This allows us to detect a failed link and automatically transition to a backup link in 200 milliseconds.
We can provide dedicated Internet per circuit or a shared Internet gateway in the cloud.
Just because we mostly do 10Gbps, we still have a solution for your smaller sites. We can provide ADSL2+, EFM and VDSL too (depending on what's available in the local exchange. If you're not sure what's in your local exchange, Google Sam Knows).
If your location is not served by anything, there is always 3G/4G. Have a look at our IOT page for more details.